According to a recent migration data released by the ABS, as of June 2018, an estimated 17,650,130 residents of Australia were born within the country. Although this could be seen as a high number, data also indicates that 29.4 per cent of residents were born overseas. This is the highest percentage of residents born overseas on record since 1996.

Over the past 2 years, Australian-born residents increased by 1.1 per cent, overseas-born residents increased in number by a much larger 2.8 per cent. It was 3.3 per cent down in 2016.
The chart below shows the top 10 countries of birth outside Australia: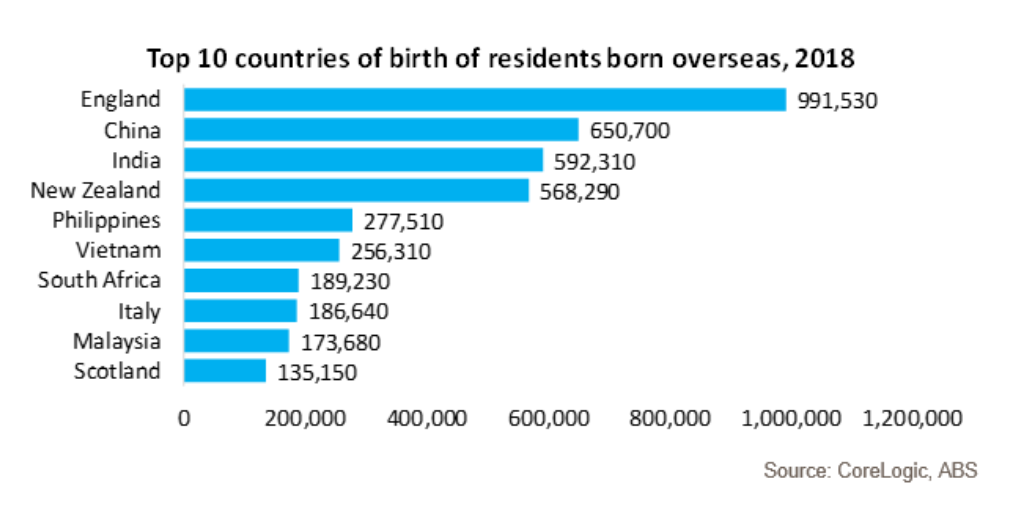 Since the colonial era, England remains the largest source of residents that were born overseas. There's almost a million England-born residents which accounts for 13.5 per cent of all Australian residents that were born outside the country. The top 10 countries of birth accounted for 54.8% of all residents that were born overseas as at June 2018.
Interestingly, migration from certain countries has clearly declined. The number of persons born in England peaked at 1,012,780 persons in 2013, consistently falling to its current level. The number of persons born in New Zealand also peaked in 2013 at 585,390, as did persons born in Scotland (142,360) and persons born in Italy (200,670). While we have seen fewer residents born in in these countries over the past five years, there has been a significant rise in persons born in China (432,400 in 2013) and India (378,480) over the same five year period.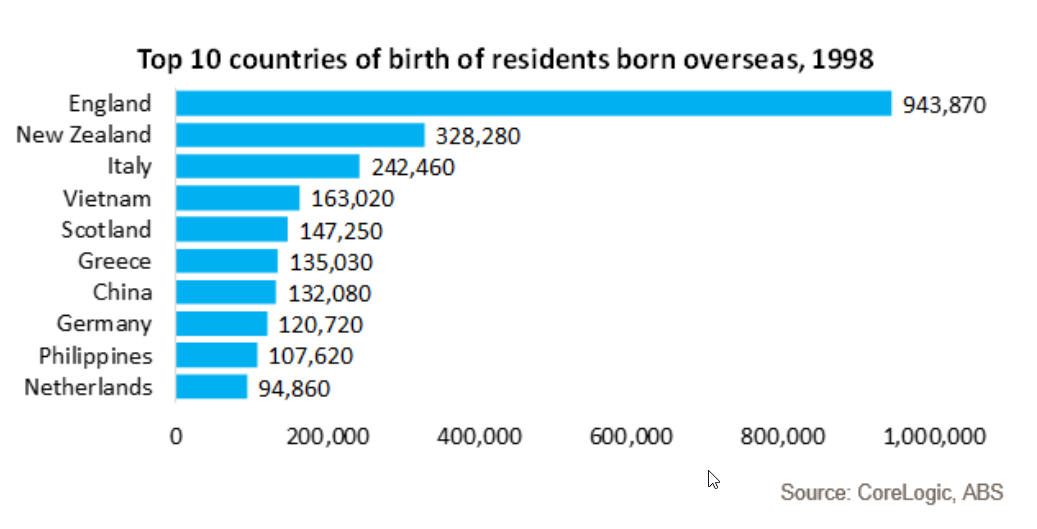 Two decades ago, the top 10 countries of birth for residents born overseas accounted for 56.0% of all residents born overseas. Remember that in 1998, a much lower 4,310,210 residents were born overseas. The makeup of the top 10 list 20 years ago is quite different to how it currently looks. China is now the second largest source of residents while 20 years ago it was the 7th largest. India which is now the 3rd largest source of residents was the 12th largest source, Malaysia is now the 9th largest source and was the 13th largest source 2 decades ago and South Africa is now the 7th largest source of residents compared to 17th 20 years ago. 20 years ago Greece was the 6th largest source of residents born overseas compared to 15th now, Germany was the 8th largest source compared to being 14th now and Netherlands was the 10th largest source compared to 25th now.
Despite the Federal Government's recent actions in reducing the number of migrants going forward, Australia is still set to be a very multicultural country. Furthermore, demand for our education services, particularly from the world's two most populous countries (China and India) is anticipated to remain high. As a result, expect even more residents of Chinese and Indian heritage to find their way to our shores over the coming years. Similarly, those countries such as Scotland and Italy will likely see themselves fall out of the top 10 list over coming years with new countries of origin finding their way to the top 10 list.